What do your Dental Implants and your Golf clubs have in common?
Posted by DR. WEN LU on Jun 6 2018, 11:45 PM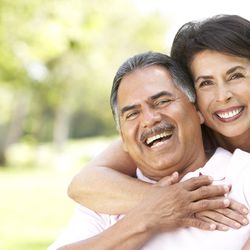 Despite the extreme circumstances, some people are just too dedicated to the game they don't seem to be bothered by the sight of the Kilauea Volcano erupting in the background! Nothing can stop a golfer from golfing, not even a tide of Lava burning at temperatures of about 1,250° Celsius. But did you know that golf clubs are so strong they wouldn't even melt under those temperatures? 
This brings us to our mystery metal:
The answer is Titanium! Titanium golf clubs have been used for several years but came to be more popular in the early 1990s.  Soon after they started being used by golfers, they rapidly grew in popularity thanks to the fact that they offered things other golf clubs couldn't. 

Why is Titanium Used in Dental Implants? 
Named after the Greek Titan gods, Titanium is one of the strongest metals on planet earth. Titanium has even been shot into space, built into the heat-resistant hull of NASA's Space Shuttle, and manufactured into dental implants! You might wonder why you would need such a strong metal to replace teeth. The answer is simple, however strong it is, what makes Titanium so special is that not only that it's very light-weight, it's highly bio-compatible so that it allows for Osseo-integration which is its bonding ability to the bone. That's why, When it comes to replacing missing teeth, dental implants have become the number 1 option, due to their superior functional and biomedical characteristics.

How do Dental Implants work?
A Dental implant replaces the root of missing tooth, allowing for a solid base for prosthetic restoration. These replacements are comprised of three parts:

Crown: The tooth-like part of the implant, usually made of ceramic material, designed to look like a natural tooth. 

Connector: Sometimes called an "abutment," the connector is used to secure the tooth-like crown of the implant to its base. 

Base: The titanium screw that fuses with the natural bone to provide a safe, stable base.

So going back to our original question; what do your golf club and your dental implants have in common? It's Titanium! And the fact that both your dental implants and your golf clubs are indestructible!

Arden Dental Center is your dental implant center in the Chicago Western Suburbs. With over 20 years of dental implant experience, Dr. Wen Lu is happy to discuss your oral care history and design a specific dental implant plan for you!