Three Ways CEREC Dental Crowns Make Life Easier
Posted by DR. WEN LU on Nov 20 2019, 06:52 AM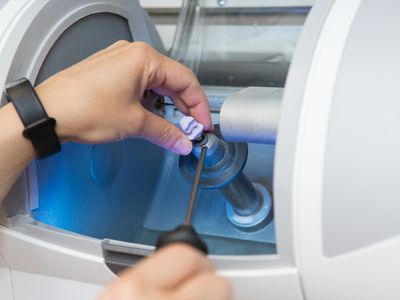 Dental crowns are quite common and have been helping thousands of patients restore their beautiful smiles. They are the best solution to most dental problems such as gaps, missing teeth, etc. Dental crowns are great at covering and protecting your damaged teeth.
In case you restore your missing teeth with crowns at a practice that does not offer same-day crowns, it's highly likely that you might know the struggle of getting standard dental crowns. Getting crowns would require a two-week waiting period, until which the dentist would place a poorly-fitting, temporary dental crown until the permanent ones are ready.
What are CEREC crowns?
CEREC stands for Chairside Economical Restoration of Esthetic Ceramics. CEREC crowns are typically made out of ceramic or resin material. A great benefit of CEREC crowns is that they can be designed on the very same day of your appointment. This prevents the need for having to wear a temporary crown, and patients wouldn't have to revisit for immediate appointments.
The best part about getting implants and restorations from Arden Dental Center at Bloomingdale, IL, is that it takes only one appointment to get your custom-built CEREC crowns. 
Here are three ways how CEREC dental crowns could make your life easier:
1. CEREC Crowns: Ready The Same Day
Getting crowns the same day is quite convenient as compared to those traditional crowns that may take about a week to be ready. As you rest in the dental chair, our dentist, Dr. Lu, would make use of a monitor to custom-built your permanent CEREC crown. By the time you wait, your CEREC crown would be getting in a milling machine. 
2. CEREC crowns are durable
Temporary crowns are generally set in the place of your missing teeth until the permanent ones are ready. Although they offer a temporary solution, they aren't as durable and may cause discomfort. With CEREC, patients won't have to wait for long. The dentist would be able to place your permanent crowns the very same day, allowing you to transform your teeth and bring back that beautiful smile quickly.
3. CEREC crowns offer supreme comfort
Unfit or loose crowns could cause discomfort and may also result in pain. The patient may experience difficulty while chewing, and it also becomes difficult to talk. Such cases could be the result of using outdated methods of taking impressions. CEREC has changed the phase of dentistry by using advanced digital imaging that can design your crowns more accurately. After custom-designing the crown, the dentist would use CEREC to mill and craft your custom-crown.
Find out the many benefits of wearing CEREC crowns. Get your custom crowns by visiting Arden Dental Center at Bloomingdale, IL, today.