The Latest in Restorative Technology: CEREC
Posted by DR. WEN LU on Feb 7 2019, 07:48 AM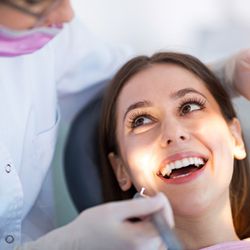 What is a Dental Crown?
A crown, sometimes known as a dental cap, is a type of dental restoration which completely covers a tooth or a dental implant.  Crowns are often needed when a large cavity threatens ongoing oral health, and insufficient tooth structure is remaining.  Crowns are typically bonded to the tooth using dental cement.

What is CEREC?
CEREC -  Chairside Economical Restoration of Esthetic Ceramic - crowns are revolutionizing the field of restorative dentistry. All across the country, people are gravitating towards more efficient and technologically advanced methods of obtaining their crowns.  In recent years, Chairside Economical Restoration of Esthetic Ceramic (CEREC) Crowns has pushed General and Cosmetic Dentistry forward in a positive direction.

5 Reasons Why CEREC Crowns are Better Than Traditional Crowns
We at Arden Dental Center were one of the first offices in the area to obtain this technology. We at Arden Dental Center remain one of the few offices in this area that have been using this technology for years. 

Dr. Lu and her staff are big advocates of CEREC technology -  here are the main 5 reasons why.

1) Multi-day to Single-visit:Patients save so much time! A CEREC crown is normally done in one visit contrary to traditional crowns in which patients have to go through multiple visits. Furthermore, the whole process- from start to finish- takes just about 2 hours for a single crown. 
2) Zero Discomfort: No Gooey Impressions! If you have a gagging reflex issue, you must know that conventional impressions are not all that fun.  Using the Omnicam we can scan the crown area digitally without all that goop! It also cut down all the human errors that often occur during the record-taking, transfer, margin determination and trimmings. 
It is also the most minimally intrusive option. The margin of the tooth preparation can be placed above the gum tissue in order to maintain as much healthy tooth structure as possible yet still achieve the most amazing aesthetics.

3) Custom design: Natural look and feel.  Emax restorations mimic tooth color, translucency, and strength like no others. They feel natural to the extent of deception -  and the crown is tough and durable!  CEREC technology allows custom design and staining to achieve same-day smile makeover with porcelain veneers or crowns. A great option for you to have a natural and gorgeous smile within just a few hours! 
4) Amazing accuracy:CEREC technology uses artificial intelligence to detect and draw margin automatically. It essentially eliminates the most common challenge when crowns are made; lab technicians misread the margin even under the magnifiers.
5) Clinically the right choice: No more temporary crowns.  The final restoration is made in-office.  Temporaries sometimes come loose because they stay in place with only temporary cement.  They are never perfect and often cause gum inflammation around the margins. This makes it hard for the dentist to cement the final crown without contamination, which consequently leads to lesser longevity of that crown.
Arden Dental Center and CEREC Technology
CEREC Same-
Day crowns have many advantages. However, they may or may not be the best option for your unique condition. We believe that every person is different, and so are their dental needs.  

Please feel free to give us a call at 630-529-0303 for a complimentary consultation with Dr. Lu and learn about the options that are best for you. We strive to tailor make every treatment plan with the greatest attention to every detail.