Invisalign: Invisible Teeth Aligners for Teens and Adults
Posted by DR. WEN LU on Sep 30 2020, 04:22 AM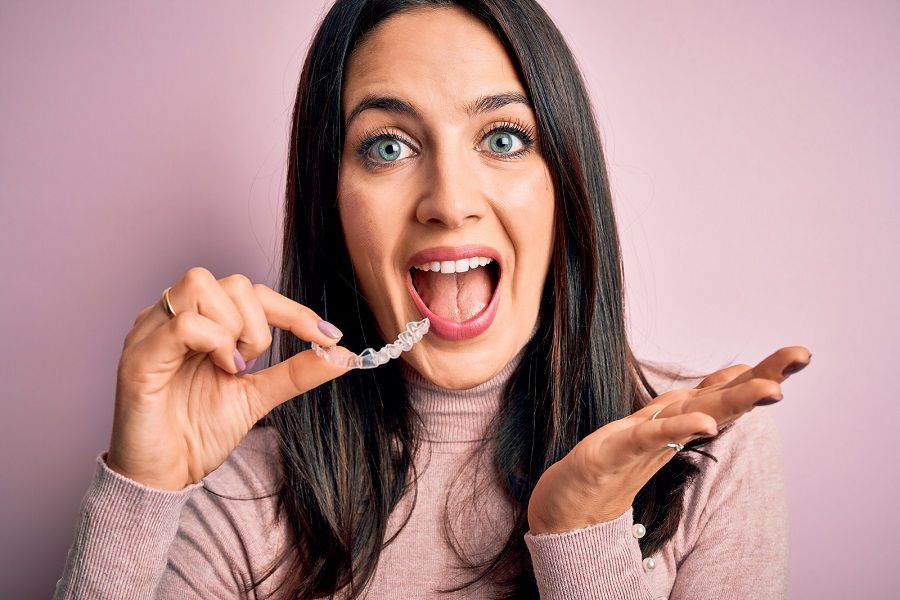 Teeth aligners are a type of orthodontic device constructed in the form of trays that aid in aligning teeth by applying pressure on specific parts of the teeth structure. Invisalign is the largest producer of clear teeth aligners made of the manufacturer's own blend of plastic - each tray custom-made for each patient. ClearCorrect is an alternative brand that offers similar benefits. Your dentist will help you decide which of the two would best suit your requirement.
Who can get invisible aligners?
If you have mild to moderate crowding of teeth, space issues, or slight misalignment, you can get treated using Invisalign. Severe alignment issues or overcrowding may call for complex treatments involving traditional wired braces.
The invisible aligners are designed to offer a tight-fit to encourage the teeth to move to the ideal position. It is, hence, recommended to be used on teenagers and adults. Since children have more complicated teeth structures and are in a development stage, Invisalign may not be the best treatment option.
How do invisible aligners work?
During your consultation with your dentist, they will analyze your smile and your oral health and take an impression of your mouth using a mold. Invisalign will then make custom mouthpieces that comfortably slip over your teeth. As per the dentist's treatment plan, a series of aligners will be used throughout the treatment period to continue shifting the teeth until they reach the desired position.
The aligners fit tightly over your teeth and are detachable easily so that you can remove them when you brush, floss, and eat.
Why choose Invisalign over traditional braces?
The primary reason why people choose Invisalign over traditional braces is that they are practically invisible and would not be noticed by people unless the teeth are closely observed. Adults can, thus, use this mode of orthodontic treatment without having to feel self-conscious. 
Clear aligners are also more comfortable to wear and do not have any sharp edges that could cause cuts on the inner lining of your mouth. Since Invisalign is removable, it makes it possible to maintain good oral health and reduces the risk of infections and gum diseases.
How long would an Invisalign treatment last?
The duration of the treatment solely depends on the level of correction required for the teeth structure. If your bite is extremely misaligned or several of your teeth are crooked, it could take longer to move or rotate the teeth. On average, it could take a few months for the treatment to be completed. If, however, you need minimal correction or you had braces as a child and only need to fix teeth that have slightly shifted, your treatment could be done in as little as ten weeks.
The dentist will guide you through the entire process, fix up regular appointments to monitor progress, and advise the general use of the aligners. Ideally, you should wear them for most of the day, and ensure you maintain oral health as well as keep your aligners clean.
Call us at (630) 529-0303 to book an appointment with Dr. Lu at Arden Dental Center for a consultation and resolve any queries you may have regarding Invisalign.