Cosmetic Dentistry Options To Improve The Quality Of Your Smile
Posted by DR. WEN LU on Jan 15 2020, 07:36 PM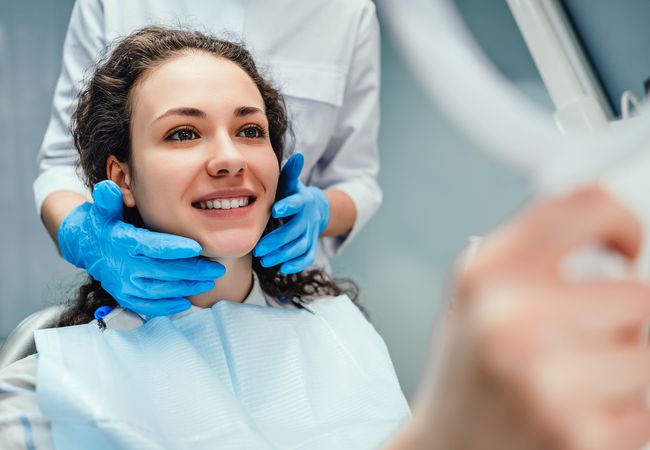 Everyone notices your smile because it's the feature that leaves a lasting impact on the people whom you meet and talk to. Whether you desire pearly whites or straightened teeth, it's our job as dentists to help you achieve your appearance goals and make you look confident and happy. 

From tooth discoloration to badly shaped teeth, our cosmetic dental department can take care of all your dental needs that can alter the appearance of your smile. At Arden Dental Center, our expert dentist, Dr. Wen Lu, has the right skills and potential to give you treatment goals that incline to your specific dental condition. 
During your initial cosmetic visit with us, our dentist would take molds, photographs, and measurements of the patient's face and teeth. This would help us ensure the smile that we restore looks as natural as possible. 
Before stepping out to perform a specific dental procedure, our dentists advise educating yourself about the several options in front of you. Read on to understand the common cosmetic dental procedures available, with the pros and cons of each.
Veneers For A Great Smile
Dental veneers are partial crowns. Their thin, shell-like appearance makes it the perfect remedy to hide front surfaces of teeth that may have been fractured or chipped. Not everyone could be a candidate for veneers. If teeth are severely crowded or malpositioned, your bite may determine whether they are a realistic solution to your dental problem.
Complete Dental Crowns
A dental crown encases your entire teeth. They resemble caps that cover the whole surface of your teeth, protecting it from further damage and infection. Crowns can easily hide imperfections making your teeth look natural and beautiful like before.
Bridges Can Replace Those Missing Teeth
Dental bridges may be the solution for that awkward gap between your teeth. A bridge functions by relying on the support from the adjacent natural teeth. When compared to dental implants, bridges are quicker solutions to missing teeth. 
Doubtful About Your Missing Teeth? Opt For Dental Implants
Just like bridges, implants are also good options to replace your missing teeth. Unlike other permanent restorations, implants may require a longer time to place. Before placing implants, the candidate would also be screened for general health. The dentist would carefully assess the jawbone and gums to ensure that they are healthy enough to receive dental implants.
Cosmetic Fillings For A Natural Look
Fillings are a great way to repair fractures and replace missing teeth, that may have been damaged due to decay, discoloration, etc. Although they would blend easily with the natural color of your teeth, it's not uncommon to experience sensitivity during the procedure.
Experience the goodness of cosmetic dentistry by requesting an appointment with Dr. Lu. Our dental practice at Bloomingdale, IL also provides general and implant dental services to our neighboring cities. Request your appointment with us today.